December is a great month, isn't it?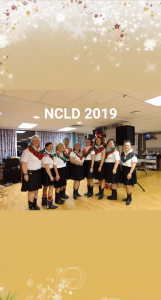 For us, we continue to practice a routine for the holiday demos we give at residences for our seniors. We take some dances that we know well and set them to Holiday tunes, and enjoy ourselves!
We encourage our audience to sing along to the songs they know – and they do.  Just the other day, I noticed that their voices were almost louder than our music!
Here's a great picture of us from just this past week when we went to the Holyoke Soldier's Home to entertain some of the veterans that live there.  We enjoy all of the places we go, of course; however, the extra smile is knowing that we are saying thank you, in our own little way, to these men and women who served our country in this way!
Happy Holidays!  May yours be filled with music, song, good friends, and of course, dancing!