We're fairly busy this time of year with demos at local Senior Housing and assisted living centers.
One of our favorite events is in Readsboro, Vermont where we join the parade, and do a demo on their pavilion stage and enjoy their chicken bbq!
And, just as enjoyable and a real honor and privilege to entertain some of nation's veterans at the Holyoke Soldiers Home!  We met a friend, Althea, who was once a line dancer and a soldier – joining us here in our group photo!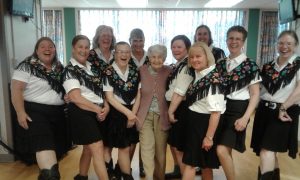 And, here are a few of our  audience members, who clapped, and hollered and danced in their chairs!